On Oct. 10, Doosan Yonkang Foundation (Chairman Yong Hyun Park) signed a funding agreement
with Professor Chan Soo Shin, dean of the Seoul National University College of Medicine, to support
the school's efforts to improve its education and research environment. The signing took place at the
main conference room of the school's Administration Department.
All of the funding will be used to provide a better education and research environment to the
students by purchasing medical books and more. Starting from this year to 2027, the company is
pledging 100 million won ($89,000) every year, which will result in a total of 1 billion won.
"For the advancement of Korean medical technology, we have to first create the right environment
where our future medical students can carry out research work and study," said Chairman Park.
Doosan Yonkang Foundation was established in 1978 as Doosan Group's scholarship and academic
foundation that supports academic, cultural and scholarship programs.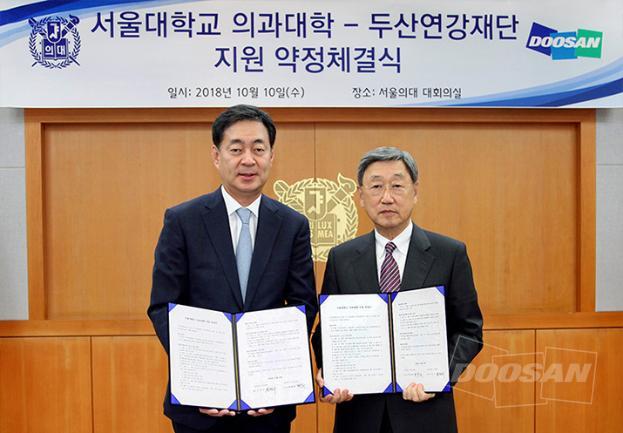 Doosan Yonkang Foundation Signs 1 Billion Won Funding Agreement with Seoul National University College of Medicine