Doosan Yonkang Foundation (Chairman Yong Hyun Park) announced on Jan. 31 that it held a
ceremony to commemorate the publication of a compilation of travel essays titled, "Meet Japan
where Tradition and Innovation Coexist," at Millennium Seoul Hilton on the afternoon of Jan. 31.
The 440-plus page book chronicles the accounts of 116 schoolteachers from elementary, middle and
high schools who participated in an eight-day, seven-night economic tour program held in June, to
industrial sites and facilities of Fukuoka, Osaka, Kobe and Nagoya in Japan, and other cities in
Korea.
"In order to nurture the future leaders of the Korean economy, teachers must be able to follow and
be exposed to global economic trends," said Chairman Park. "I believe teachers will be able to use
this experience to better nurture future talents."
Since 1989, Doosan Yonkang Foundation has offered overseas academic tours to teachers
recommended by metropolitan and provincial offices of education nationwide. A total of 2,583
teachers have participated in the program to date.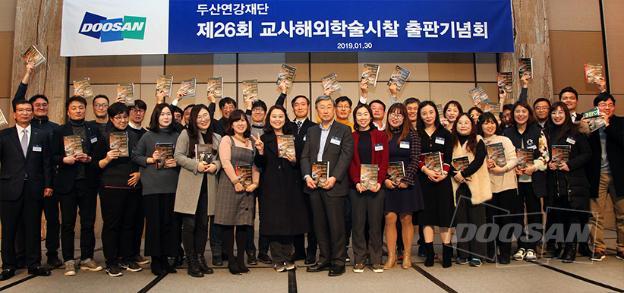 Doosan Yonkang Foundation Celebrates Publication of Teachers Overseas Economic Study Tour Essays